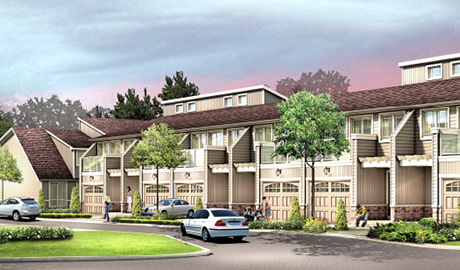 Recently, I purchased an investment property and a client was asking me more about it. I figured that this would be a great blog topic for a few reasons.
First of all, everyone always wants to talk about investing in real estate. It's a topic that genuinely fascinates just about everyone I have ever worked with. People want to invest, yet are held back by a number of factors. Although a lack of capital seems like the most obvious roadblock, that is surprisingly not the case for many people.
Secondly, investments, such as the one I made, really take a lot of the risk and fear out of investing and are VERY easy to manage. (Stay tuned for more on that later…!)
So what did I buy?
I purchased a newly renovated townhouse located in a desirable Orillia community called Lankin Shores. It's a small complex of 44 upscale townhomes situated less than 95 meters from Lake Simcoe. Each unit in the complex has been fully renovated from top to bottom with modern finishes that are perfect for maximizing rent and your return on investment.
What puts the investment over the top?
When I come across a great deal like this one, I'm usually pretty excited. A few of my colleagues felt the same way and even purchased units for themselves. Remember, we see real estate all day long so when industry insiders are buying there has to be something to it. Lankin Shores offers a unique turn-key investment opportunity. Each property purchase comes with a tenant in place on closing, a minimum rent guarantee, and best of all, free property management services for the first year. These added bonuses offer exceptional value for investors, just like me, who don't necessarily have time to be a full-time landlord. I get to buy an investment property that is in the right spot, with the right finishes, with a tenant and property management in place, that provides positive cash flow from day one! Are you starting to see that this was a "no brainer" for me?
Why Invest In Orillia?
It's not just the complex itself that appealed to me - the city is also worth mentioning. Orillia is currently ranked as one of the Real Estate Investment Network of Canada's Top 10 Towns. The population is projected to grow significantly over the next 10 years, and the rental market is demonstrating strong figures. There are extensive plans for future schools, hospitals and infrastructure in the area. All of these factors contribute to creating a strong rental market with great employment options nearby, and a large pool of good quality tenants.
This particular development offers something truly unique in the area to satisfy the rental market. Growing families need spacious rental units when a typical apartment condo just won't cut it. Three bedroom townhomes are few and far between in the Orillia rental market, and because the properties at Lankin Shores are fully renovated, they are attracting triple-A tenants.
Choosing the right rental property may seem overwhelming, but it doesn't have to be. In a strong market, nearly any property has investment potential at the right price, but what really stands out to me are those unique opportunities that offer investors that extra value. Sometimes you need to think outside the box, (or the GTA), to find the next diamond in the rough.